Acknowledgement of Country and Sovereignty
We stand on the unceded lands of Australia's Indigenous Peoples and their Nations. We respect their continuing connection to land, sea, sky and waters.
We respect their Lore, Ancestors, Elders, and extend our respect to their leaders and young people.
i2i Global
i2i Global is an Indigenous-owned advisory, consulting, global logistics, and aerospace company. We support our clients to boost Indigenous engagement, we work with them to achieve scale, impact and viability.
i2i Global is working on some of the most exciting and innovative projects in Australian Indigenous affairs – particularly with our private sector clients. We live by the values of respect, empowerment, innovation and impact. Our goal is to be a global leader in achieving impact with Indigenous Peoples.
We believe brighter Indigenous futures are possible through enterprise, innovation and development. We have capabilities in enterprise and business development, business support, strategic planning, investment and trade matters, research, data, evaluation and insight, stakeholder engagement, community engagement, public policy development and reviews.
We are a leading Indigenous company adept at building Indigenous teams that deploy on contract and project delivery. Our firm has its beginnings in the field of international development, supporting the Department of Foreign Affairs and Trade (DFAT). We have experience in Australia, Indo-Pacific and Latin America.

Brisbane
37 Balaclava Street
Woolloongabba
QLD 4102 Australia
Sydney
Level 3 18 Bulletin Place
Sydney
NSW 2001 Australia
Cairns
53 McLeod Steet
Cairns City
QLD 4870 Australia
CAPABILITIES FOR INDIGENOUS ENTERPRISES
Working with Indigenous interests and corporate Clients.
Growing Indigenous Enterprise and Business
Advisory
i2i Global is actively sourcing and connecting capital on behalf of First Nations (traditional) owners of lands & seas, to enable them to take equity stakes in large projects and going concerns that happen on their country.
Driven by international standards such as ESG and FPIC, as well as investor demand, First Nations groups (in Australia and across the Indo Pacific) will be economic proponents – rather than supplicants – and they will share in economic benefits and wealth that is generated on their country.
Consulting
i2i Global applies a strict customer-centric and commercial approach to developing economic resilience and prosperity for First Nations entreprenuers and communities.
We are live on client contracts throughout mainland Australia, in the Torres Strait Islands, and in the Indo-Pacific.
The current Australian Federal Government has committed to "First Nations perspectives [being] at the heart of Australian foreign policy" and i2i Global is a leader in this space.
Global Logistics
In line with i2i Global's growth-oriented business transformation, we are introducing new capabilities to the market. Our aim is to consistently meet and exceed our clients' opportunities and requirements while making significant strides towards creating a better future for Indigenous communities.
Within the Logistics and Procurement business, our team boasts an impressive collective experience of 50 years, marked by successful implementation and delivery of Commonwealth programs. Some of our key practice areas in this domain include:
Humanitarian Response & Emergency Management

Supply Chain Operations

Estate Management & Operation Services

Integrated Project Solutions
Corporate Services
The overall objective of the corporate services is to provide efficient and effective support to allow the company to deliver on our broader strategic business goals.
CAPABILITIES FOR INDIGENOUS ENTERPRISES
Working with Indigenous interests and corporate Clients.
Growing Indigenous Enterprise and Business
Trade and Investment
When you have interests in 57% of Australia, Indigenous success in matters of investment and finance is central to Indigenous futures. There are trade opportunities in export markets for Indigenous businesses. Indigenous business leaders are seeking foreign direct investment to realise opportunities on-country. Let us help to realise that opportunity.
Enterprise Development
When Indigenous leaders seek out a capability partner to build their company or economic strategy they turn to i2i Global. Business growth is rarely a smooth journey. We know this and we know how to support Clients to keep moving forward when faced with bumps in the road.
Building for Growth
We support Clients, both non-Indigenous and Indigenous, to develop, progress and execute their plans for growth. There are many emergent opportunities in Indigenous Australia. When you need an advisor to take these next steps to achieving growth then we're here ready to help.
Research, Evaluation, Data & Insight
Fresh thinking and innovation is directly linked to good quality data. Information and insight matters to your investment choices. Our ability to furnish market research and intelligence is unique in Indigenous Australia. We have access to Indigenous MEL professionals, researchers and business thinkers unmatched by any other firm.
Indigenous Engagement
We help clients to navigate complexity, build rapport, attain the right information and make considered investments that generate returns and achieve impact. We're all about the opportunity and the possibilities.
Public Policy
Doing public policy and implementation is not an easy thing. Indigenous Affairs adds to the complexity. We're here to help. We work with public sector leaders to bring new policies into practice, to support existing policy frameworks to meet their objectives, and to review and evaluate for improvement and evolution.
A PREDOMINANTLY INDIGENOUS TEAM
---
Lea Yettica-Paulson
Chief of Staff

---
Clare North
Strategy and Corporate Manager

---
---
Tyrone Adamson
Associate

---
Vincent Bin Dol
Advisor

---
Kirsty Burchill
Associate

---
Desanya Stanley
Advisor

---
Rachel Woodford
Managing Partner

---
---
Peter Diplas

Chief Executive Officer
i2i Global Logistics

---
Jared Weyandt

Director of Operations
i2i Global Logistics

---
---
Daniel Joinbee

Chief Executive Officer
Gunggandji Aerospace

---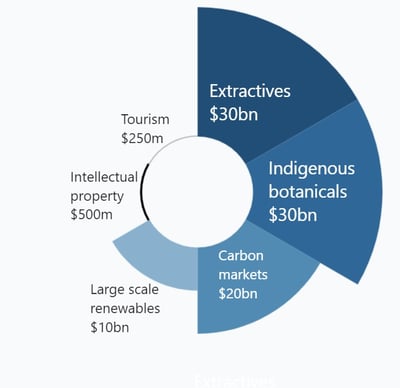 BIG PICTURE
Extending Indigenous Interests.
i2i Global is an active researcher and collaborator. Insight informs our strategic outlook. We bring that information, thinking, insight and innovation to our Clients.
The century ahead will be an exciting time for Indigenous Australians.
Our research indicates that Indigenous Australia is building to a $100 billon economy. Indigenous Australians have resumed active interests in 57% of the continent of Australia. After being excluded from trade, export opportunities and investment for 234 years Indigenous inclusions in trade arrangements will unlock billions of dollars in economic activity. This creates opportunities in key growth industries.
It's our task to prepare Clients for these changing times to realise the opportunities, to de-risk the development pipeline and to support your team to create and capture value.
OUR PARTNERS
We collaborate with delivery partners who share our values, and meet capability needs for our Clients.